Connor Mayes
Pitcher
Windy City Thunderbolts (Frontier League)
Ty Culbreth
Pitcher
Colorado Rockies
Tres Barrera
Catcher
Washington Nationals
"As athletes weight training is crucial for many reasons. To gain strength is the obvious but longevity I believe is the most Important. Alex devoted a ton of time to help my development and broke down my strengths and weaknesses to help me become a complete player on the field. As a result he helped me stay on the field and have one of the best seasons of my career. I can't thank Alex enough for the time and dedication he put in everyday to help me reach my full potential!!
Pitcher, Kansas City Royals
Outfielder, Miami Marlins
"My experience working with Alex has been nothing shy of excellent. He has always taken in account of my exact body style and formulated a workout routine that put me above and beyond anyone else on the field. His knowledge and experience about not only baseball but, training elite athletes makes him one of the best in the business. He will push you to your limits helping you achieve all and any of your goals. I would recommend Alex's services to anyone that is serious about putting in the hard work to get to the next level!"
Outfielder, Toronto Blue Jays
"Can't thank Alex enough for all the hard work we put in this off season! I met with Alex and we discussed specific goals for my off season plan and we accomplished them and much more! If you're serious about enhancing your game Alex is the best of the best!"
Chris Roller
Outfielder
Los Angeles Dodgers
Braden Pearson
Pitcher
Cleuburne Railroaders (American)
George Janca
Pitcher
Texas Rangers
"Alex is the best trainer in all of sports right now. I would not be where I am today without him as my trainer. Growing up I focused a lot on more fundamental skills on the baseball field, but never really knew what I was doing in the weight room. I would work out consistently, but would only do the basics (bench, squat, and deadlift). Alex helped me take my game to the next level by writing workout programs that maximized my potential. Not only does Alex write the best workout programs, I have never met someone as passionate as him. Alex is constantly learning about fitness and how to make his athletes better. He also is willing to do whatever is necessary to get his athletes better. Whether it was texting him late at night about a workout or meal plan, to training me at 6 am in the winter before I had to go into work, Alex has always been there for me. I attribute a lot of my success to him and am happy to consider him a dear friend. I am excited to see what the future holds for him!
"Deciding to work with Alex last summer was the best decision i've ever made. In the beginning of the summer I told Alex that I wanted to put on twenty pounds and after the summer and training with Alex four times a week, I put on twenty pounds of muscle like that! Alex has been extremely helpful to me and he also created a enjoyable environment to train in. He gave me a great program to follow that my teammates and I have been using here at St. Lawrence. Alex is a great trainer and I would recommend him to any baseball player serious about improving their game!
"Simone Baseball Performance has given me the knowledge and ability to train for baseball specifically, while building the strength to compete at the highest level. As I am entering my junior year at Youngstown State University, I can't think of a better way to prepare for the season than training with Alex. I'm looking forward to coming back in the winter and preparing for the 2017 season as we open up against Georgia Tech. I recommend training with Alex to anyone who takes their sport seriously and wants to take their game to the next level.
Catcher, Youngstown State University
Pitcher, Santa Fe Fuego (Pecos League)
"This off-season my goals were to get bigger and more powerful. I weighed 183 pounds when I arrived (December 6, 2016) and now (January 12, 2017) I weigh 195 pounds and I am much more powerful. Alex made me a meal plan that made sense and was specifically tailored to my needs. While training with Alex I also performed a weighted ball throwing program. My arm feels stronger than ever and I'm extremely excited to see how it translates on the field.
If you're serious about improving your game I would highly suggest training with Alex. If you are content with mediocrity then I wouldn't recommend Alex's services".
Catcher, Trois-Rivieres Aigles (Can Am League)
"Before this summer I've always struggled with speed and strength training. I was never fast, and ran a 7.3, 60 yard dash. It held me back in what I could do on the field, especially at Saint Rose for my junior season. So this summer, when I got the chance to play in Syracuse, and found out Alex was here too, I jumped at the opportunity to work together. When we started working out, I saw results instantly. I was moving better behind the plate. I was running faster, and scouts were loving how agile and quick I had gotten. The same holds true for my swing. From a bat speed standpoint, my hands feel quick and strong to the ball, and I'm hoping to really light it up in school ball. I lowered my 60 yard dash time from a 7.3 to a 6.8, and lowered my pop time behind the plate from a 2.1 to a 1.8. I've never been in this good a shape before. Alex has definitely been a turning point in my career."
Max Troiani
Outfielder, Orleans Firebirds (CCBL) / Bentley University
"Alex is the best in the business. He was a huge part of my development this summer to help me feel my best going into each start. His mobility, nutrition and strength training knowledge is second to none. I recommend Alex to anyone who wants to get better, push themselves and make significant improvements in the weight room and on the field."
Pitcher, Wake Forest University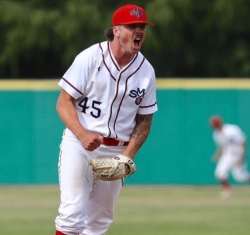 "Having Alex as my strength trainer this summer in Orleans was one of the best things I could have ever experienced. He taught me a variety of new things when it comes to lifting, mobility work, and nutrition. Every time we put in our time in the weight room I knew I was getting better at my craft. He's a great person overall and has helped me tremendously this summer."
Pitcher, Saint Mary's College (CA)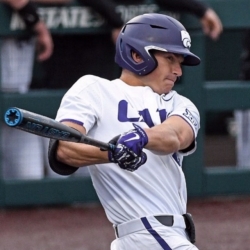 "If you want training at the top level, you got to train with Alex Simone. I have yet to train with a coach who knows as much as him, with also a great and positive atmosphere. He helped me to compete in the Cape at my highest level possible, and I am extremely thankful for that. He incorporates specific exercises for individual's body types, and pushes you to your fullest potential. You have to train with Alex Simone!"
Outfielder, Kansas State University
Noah Campanelli
Infielder
St. John Fisher College 2019
Nick Cosentino
Pitcher
Penn State University 2020
"Alex is simply the best in the business. Deciding to work with him this summer in the Cape was the best thing I did. I've never been a big gym guy, but he showed me ways to lift and feel great on game days. He took his time showing me the right technique for each lift. Alex's knowledge about baseball and training is second to none. He takes his time with each individual and makes sure everything feels right. He truly cares about everyone he works with and does what he needs to do to make sure you're at your best. Alex definitely made me better this summer, and it was a honor to get to work with him and build a relationship!"
Infielder, University of Miami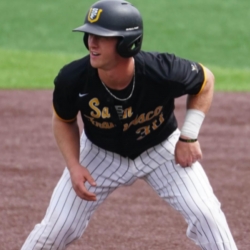 "Alex Simone is the best trainer in the game. He helped me immensely in all areas of my game this summer, including mental preparation. I stayed strong for the whole season, and because of his expert workout planning, stayed healthy and energized for games while training nearly every day. If you want to reach your potential as a baseball player, You need to train with Alex!"
Catcher, University of San Fransisco